Protect your packages from porch pirates with our video doorbell camera.
Receive video clips on your smartphone when your indoor security camera senses motion inside your home..
Keep an eye on your property day or night with outdoor security cameras.
Security cameras are your first line of defense
Over
30% of burglars
enter through the front door. With security cameras manning your porch and driveway, you can help prevent unauthorized entry. Be alerted in seconds if someone walks up your front steps from its built-in motion sensor. And with crystal-clear 1080p video, you'll be able to see whether your visitor is a welcome one.
Custom notifications, instant alerts
The Alarm.com app enables you to control of all your security devices with a single app. Whenever home security surveillance cameras sense motion, you can receive an alert on your phone or send clips to your email.
Arm and disarm your security system, see who's at your door, start a conversation, and lock or unlock your doors – all remotely, all through a single app
Clear vision, all night long
Get a clear view in and around your home, day or night. Infrared and full-color night vision on the
outdoor security cameras
will let you see activity you might otherwise miss, like your kids wandering the house after bedtime or suspicious activity around your home while you're on vacation.
Complete control in one app.
See when your package is delivered.
Looking To Reuse

Your Existing System?
Have an old home security system in your residence and want a reliable Massachusetts alarm company to monitor it instead? We can transfer you over for no upfront cost.
There are 4 different types of security cameras:
Fixed indoor cameras
Dome cameras
PTZ cameras
Bullet cameras
Fixed indoor cameras are stationary cameras that come in a variety of different styles. They are popular due to their affordability and ease of use.
Dome security cameras are those dark, bulb-shaped devices you've probably noticed in the ceiling of a department store, a bank, or a government office. They're designed to be tamper-proof.
PTZ cameras (pan-tilt-zoom cameras) allow you to pan side-to-side, tilt up and down, and zoom remotely. If you've got a wide viewing angle to cover, one PTZ camera can get a fuller picture compared to most others.
Bullet cameras are fixed cameras that can be used indoors or outdoors. This is probably the most traditional design that we associate with surveillance cameras. They're a little bit larger than the other options, but these are most commonly found in surveillance camera kits.
We can break down all of these camera types into two categories: wireless and wired.
Both have their pros and cons:
Wireless cameras have become popular in the past decade as data transfer rates over WiFi increased, and wireless connections became more reliable. These are often used for general surveillance, baby monitors, and nanny cams.
There are also two different types of wireless cameras: traditional wireless cameras and wire-free wireless cameras.
Outdoor cameras can be used indoors but indoor cameras cannot be used outdoors as they lack the weather resistance needed to keep out dust and water. Without sufficient protection, the camera could become damaged and malfuncation.
We do not have access to your camera's footage or images. 24/7 video monitoring is a separate service that some security companies offer.
All footage is stored on the cloud for 7 days by default. Some cameras only record when they sense motion, while others are constantly recording. The benefit of motion-activated cameras are that they use less space.
Starting at $26.99/month.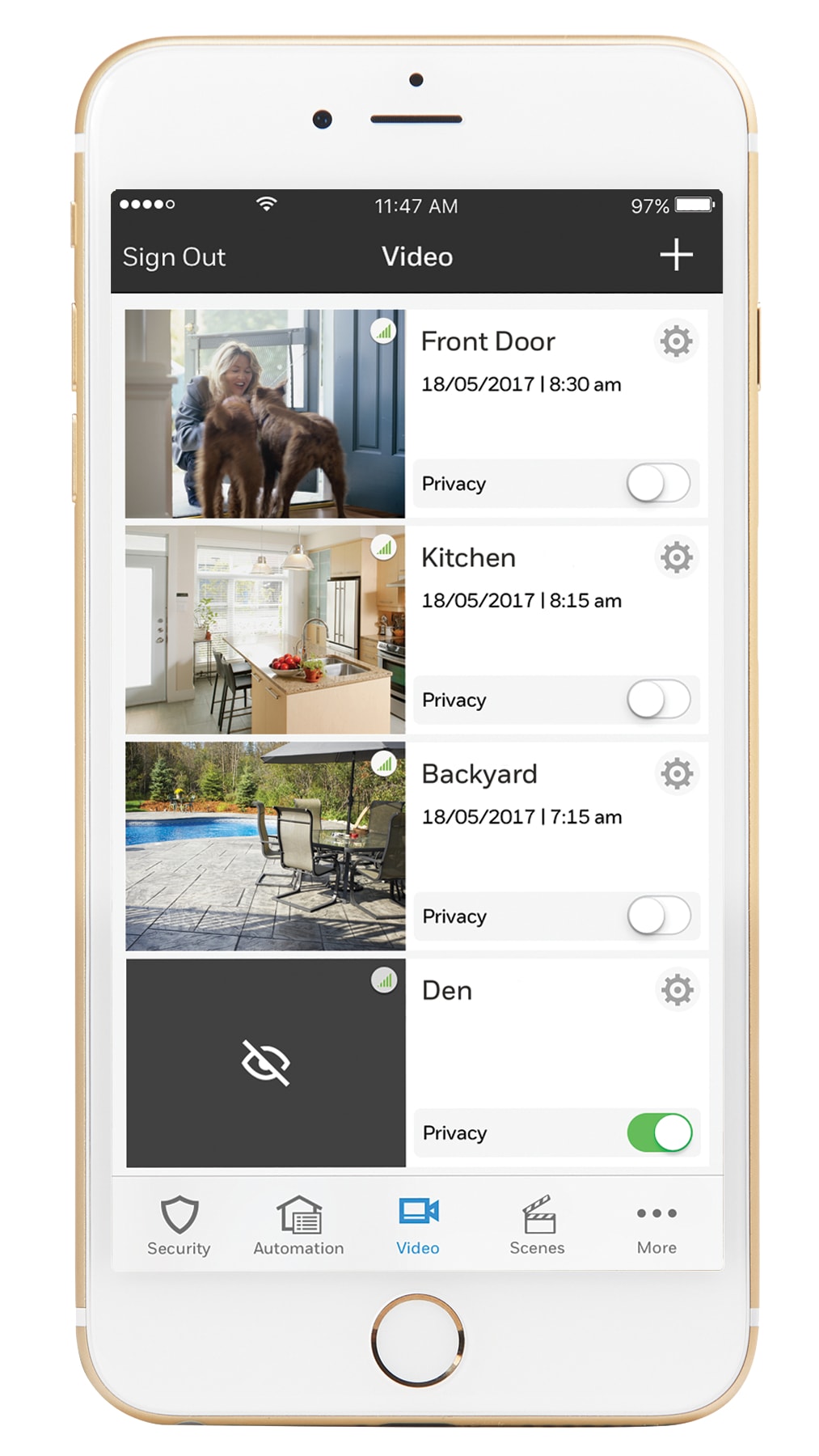 Everything in the Traditional Package
Everything in the Control Package