Our Exclusive Dental Practice Deal.
Simply have Alarm New England takeover your existing system at no cost to you. Or build a completely new system!
Streamline your practice. See when employees come and go 24/7. Set automated light, lock, and thermostat schedules. 
Serving all of Connecticut for over 50+ Years. 
Nancy Leary
Super experience! I've been a happy customer for many years and will be for many years to come! They are responsive and have all the greatest technology. Alarm New England is the best!
John Hill
One of my pet peeve's is customer service and I must say working with Alarm New England, Joelalexis in particular was one of the most pleasant and professional experiences that I have encounter in all my years of business
Peter Plona
Great experience overall. The install was flawless and after a review of my existing system, we were able to take care of a few necessary upgrades and 1 add on feature. All on the spot decisions. Very happy it all worked out as well as it did.
One App for Your Entire Business
Control your entire smart security system with our top-rated app, available on iOS and Android devices.
Personalized Notifications
Your alarm company will inform you when events occur, such as sudden temperature changes, leaking pipes, or windows opening.
Smart Business Control
Arm or disarm your business security system, unlock or lock doors, turn lights off or on, and adjust the smart thermostat with a simple tap.
Keep an Eye on What Matters Most
Get a clear view in and around your business, day or night. Receive video clips on your smartphone when your cameras sense motion.

Looking to Switch Your System?
Have an old alarm system and want us to monitor it instead? We can transfer you over for no upfront cost.
ADT vs. Alarm New England
ALARM NEW ENGLAND REVIEWS
Yes, when you pay for your equipment, that equipment is yours forever. We don't "lease" equipment or sell any equipment that is proprietary.
We offer you a choice between the industry-standard 3-year contract and a flexible month-to-month contract.
Wireless systems are safer because there are no cables that can be cut to disable your security system. Older, unsecured wireless systems are also more of a threat to your privacy.
Honeywell's security system is protected by 128-bit AES encryption, meaning your security system's data stays protected with the same level of encryption as national banks.
We are able to get into dozens of alarm brands and models and reprogram to talk to our central station.
In many cases, our technicians are able to go out to your home and help switch your system over to us for at minimal cost to you. We'll reconnect every device, test your system, and activate it with our monitoring center.
To make things simple, we need your installer code to gain access to the system's programming, and also need to know the brand of the system to make sure it's compatible. Should you need help figuring out what type of system you have, call us and we'll guide you through the process over the phone.
Starting at $26.99/month.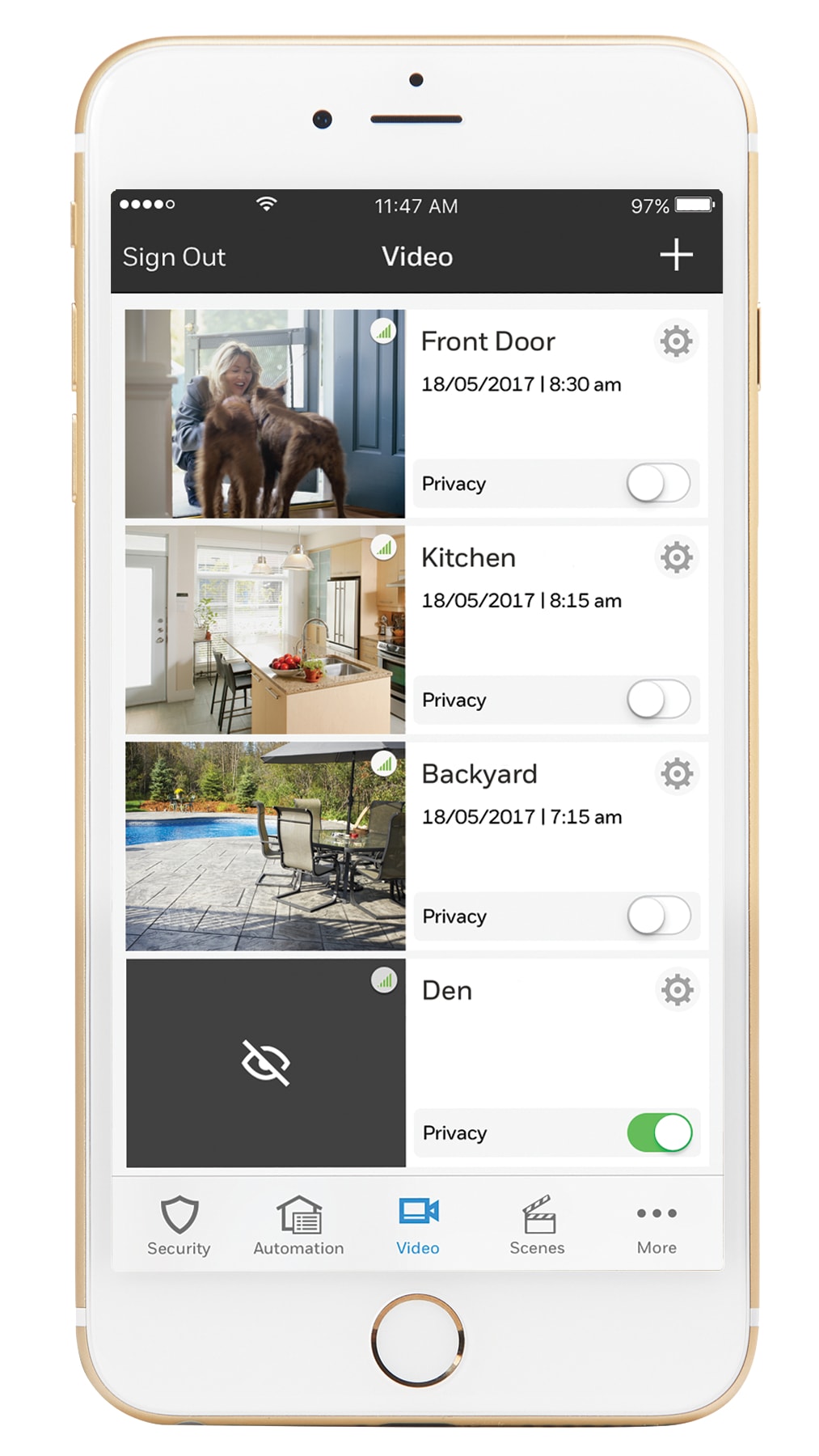 Everything in the Traditional Package
Everything in the Control Package