Home security is a booming business. Whether you're looking to install a brand-new home security system or want to upgrade your existing one, it can be intimidating to look for the best system for your needs.
If you take a look at recent home security system reviews, you'll most likely find that national companies are usually rated as the best. But we think you should also take a look at local companies too.
That's why we've taken the time to evaluate and highlight home security systems worth taking a look at in the Connecticut area.
How We Choose the Best Home Security Systems
Each household has different security needs, depending on your location and home situation. Some families will benefit from more comprehensive security solutions, while others just need the basics.
And apart from features, there are other considerations to keep in mind when choosing between the various home security systems in Connecticut, including price, reliability, and customer service.
Pricing
Many people focus on what features they can include with their home security system. Yet the most critical aspect of whether a company is the right fit for you is if you can afford to pay for its services.
Security companies usually operate on one of two models: upfront costs and a small monthly monitoring fee, or the equipment costs with a monthly payment.
Some companies will lock you into long contracts, while others operate on a month-to-month basis. Making sense of all these pricing plans is essential to know if a home security system is affordable in the long term.
Customer service
Customer service describes how the company interacts with its customers, from sales all the way to support and even response time. Some companies take better care of their clients than others, and it is an important consideration when choosing your security company.
Features and equipment
Home security has become increasingly high-tech, and many security companies offer wireless home security systems in addition to traditional offerings. If you have a smart home, you'll appreciate a security system that can link into your existing network, allowing you to configure settings and control your security remotely.
Having high-tech security equipment is meaningless if you can't operate it. We focus on ease of use and reliability when evaluating a security company's equipment offerings.
Let's explore some of the home security system options available in Connecticut.
Alarm New England is one of the best-known home security systems in Connecticut; we offer small business customer service and high-tech security solutions to Rhode Island, Connecticut, and Massachusetts.
We uses the same high-quality security equipment as ADT and place a significant emphasis on customer satisfaction, offering one of the best security system solutions in the state.
Pricing
We combine equipment and monitoring into three plans. The basic plan contains a basic security system with a control panel and sensors, while the more advanced plans include home automation and security cameras.
Unlike other companies that require you to sign a long-term contract, we offer flexible alternatives, including a month-to-month plan for monitoring.
Also, if you have an existing security system, we can send out a technician to activate your system and migrate it to our monitoring service for minimal cost.
Customer service
We prides ourselves on excellent customer support. Our online reviews show just how important customer satisfaction is to us.
We're always willing to work with customers to find the best security solution for their needs.
Features and equipment
Our base plan offers relatively simple equipment and Wi-Fi monitoring. But as you move to the more advanced plans, you get more sophisticated equipment options.
The options include home automation and a variety of camera options, from indoor and outdoor cameras to state-of-the-art doorbell cameras.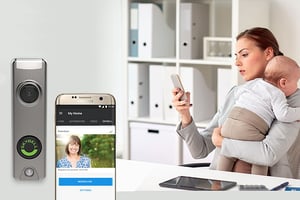 If you sign up for the midrange plan, you also get access to our interactive app. The app gives you plenty of remote security options, including security alerts and the ability to remotely control door locks and garage doors.
ADT is one of the large home security systems in Connecticut (and in the country). It has been in the business for a long time and understands what its clients want from a home security system.
ADT generally aims its offerings at home users who want the basics, but it also has options for people who want more advanced equipment and features.
Pricing
ADT offers a Protect Your Home package that combines equipment and monitoring for a monthly fee. The basic option includes a system panel, motion sensor, wireless sensors, and a remote at $28 a month.
The most advanced plan comes with everything ADT offers, including home automation integration and video surveillance around $60 per month.
The main drawback to ADT's competitive pricing is that they are known to raise rates within the contract. If you want to cancel the contract before the end of the two years, you have to pay a hefty early termination fee.
If you're not satisfied and ADT doesn't resolve your concerns, you may get money back for the installation and monitoring service paid back.
Customer Service
ADT is known for having mixed customer service, but this largely depends on your region. Some dealers have been known to be pushy and manipulative, so make sure you check online reviews in your area.
ADT offers a 24/7 emergency service line for any emergencies you may have, as well as a dedicated customer service line that operates on usual business hours. You can also contact customer service via email and live chat, and in general, the staff is helpful and quick to resolve issues.
Features and Equipment
ADT offers equipment ranging from basic to advanced, depending on your needs. The most straightforward package comes with the base system, a control panel, wireless sensors, and one motion sensor.
You can upgrade this equipment and customize your home security solution by adding several additional sensors, door locks, or even a keychain remote control.
ADT's main selling point is its affordable monthly price as well as the ability to customize your plan to suit your particular needs.
Vivint
Vivint has made its name as the premier smart home security system by offering high-end equipment and comprehensive home protection.
Pricing
Vivint offers two options when it comes to financing your home security system. You can pay up front for one of its equipment packages and pay a monthly monitoring fee. Or you can finance your equipment by using its Monthly Flex Pay system, which adds a certain amount onto your monthly bill.
Vivint's equipment and monthly payments aren't cheap, as you're paying for high-quality tech and home automation. The simplest equipment package goes for $700 and includes a touchscreen panel and your choice of six sensors.
The basic monthly monitoring fee is $30, and if you want to add automation features, the price goes up to $50 per month.
Vivint also has the most extended contract term with a standard contract lasting five years, giving you more than enough time to pay off your equipment fees. You can negotiate for a shorter contract, which may raise your monthly rates but will offer you a bit more flexibility.
Customer service
Vivint has generated a negative reputation due to its pushy and manipulative sales tactics, which led to several court cases in multiple states.
It has tried to mend its ways, and its customer service is currently trying to address several issues. Vivint has become more transparent in its pricing, and customer service is more responsive than ever.
Vivint still has a way to go. But it offers numerous ways to contact customer service, including telephone, email, and live chat. The company has an extensive amount of documentation on its website to address common concerns and problems.
Features and equipment
As expected, Vivint offers a whole host of high-tech security options that look sleek and provide comprehensive security solutions. It has a wide range of sensors, from smoke detectors to freeze sensors, as well as indoor and outdoor cameras with wide lenses to prevent blind spots.
Vivint also has automated door locks as well as remote thermostat and light controls.
Unfortunately for the DIY-inclined, Vivint requires that a trained technician install all its equipment. While the installation is complex, using Vivint's system is quite simple.
The touchscreen control panel takes note of how you use it and learns to adapt and predict what you want. It uses large icons and text, and the entire experience is intuitive and easy to learn.
Cox
Cox is another communications company that has entered into the home automation market, and its Homelife service offers home security and home automation services in an easy to understand plan.
Pricing
Cox offers two plans for home security. The first is $30 per month if you bundle it with another Cox service or $40 per month stand-alone. It includes monitoring and essential security equipment, as well as some home automation features such as security alerts to your phone and the ability to remotely control your door locks.
The more advanced plan is $45 when bundled with another Cox service or $55 stand-alone. In addition to everything you get with the cheaper plan, you also get remote live video monitoring, smart plugs, smart light switches, and a smart thermostat.
Unfortunately, there are also several additional costs that you incur when you sign up with Cox Homelife, including installation and activation fees. If you want to protect your equipment, you have to pay an additional $5 per month.
Customer service
Cox has a much better customer service experience than some of its other telecom competitors, and the same holds true for its Homelife service. There are multiple ways to get in touch with Cox, including live chat, phone, or social media.
It also has a service portal with FAQ and a forum on its website to answer any simple or complex questions that you may have.
Features and equipment
Cox Homelife uses a smartphone app as a control panel, and you can access all the standard security and automation features from there. While there are two main Homelife plans, you can customize them to some extent by adding additional sensors and other automation equipment.
Be careful, though. You can only purchase some equipment if you have the advanced plan, such as the smart thermostat and HD camera.
Overall, the equipment is simple to use as it's all centrally controlled through the smartphone app, which lays out the security and automation features clearly and concisely. Even users who don't like smart technology will find this easy and intuitive to use.
ProtectAmerica
If you're looking for simple home security systems in Connecticut, ProtectAmerica may have the right package for you. Its focus is on simplicity and ease of use. The company lets you install the security equipment yourself, allowing you to customize your security setup.
Whether you're deciding between home security systems with cameras or a more straightforward, basic system, ProtectAmerica will have something for you.
Pricing
ProtectAmerica's pricing works by charging a standard equipment fee of $99 and then offering a three-year contract in which you pay for monitoring.
Unlike other security companies, the price you pay for monitoring depends on whether you connect to the emergency line via landline or 4G; 4G is the more reliable but more expensive option.
Be aware that you don't own the equipment. If you cancel your contract, you'll have to return the equipment.
Customer service
ProtectAmerica has a lot of fine print when it comes to its pricing and contracts. Many ex-users are disappointed to find out that they need to give 60 days' notice before canceling the contract and that ProtectAmerica auto-renews contracts without notifying the user.
If you have read your contract carefully, you may find ProtectAmerica's customer service to be excellent otherwise. Apart from the 24/7 emergency line, there is a customer service hotline that operates during business hours and on weekends. You can also contact customer service via email and live chat.
Features and equipment
All of ProtectAmerica's equipment is proprietary, though its control panel can identify other smart devices made by other brands. It has the usual array of control panels, sensors, and video cameras, and ProtectAmerica also offers a remote control for the alarm that comes with a panic button. You can also use the smartphone app to control your home.
Some users worry about DIY installation. But because each sensor is wireless, it's just a case of sticking the equipment to the wall with the removable adhesive and connecting it to the control panel.
Choosing the Best Home Security System for Your Needs
You now have a good idea of your options when it comes to home security systems in Connecticut. Select the system and company that fits your needs, and enjoy the added peace of mind that comes with knowing your home is safe and secure.